Compassionate Cancer Care
At Regional One Health, we understand that a cancer diagnosis is a life-changing event – so we're changing the way cancer care is delivered for patients and families alike. By assembling multidisciplinary specialists, evidence-based medical treatments, and robust clinical research, we are elevating cancer care for patients throughout the Mid-South.
Our team approach is based on the proven model of providing comprehensive care for every patient, every time. We deliver on this promise by uniting surgical, medical and radiation oncologists; radiologists; nutritionists; nurse navigators; and genetic counselors in every patient's care. Treatment begins with our nationally-recognized experts convening multidisciplinary conferences to review your diagnosis, stage and treatment. These conferences, also called tumor boards, bring together cancer experts and specialists from multiple disciplines to share knowledge, ideas and treatments to give you the right care at the right time. This powerful tool promotes innovation and ensures no stone is left unturned in developing the best treatment plan.
Treatment is then delivered by physicians and cancer specialist nurses who share a commitment to patient-focused medicine and providing the best care for patients and families. We put all the services and expertise you need in one place, helping you navigate this challenging time in a comfortable, trusting environment so you can live the life you love before, during and after your treatment. We support you and your family through every step of your journey.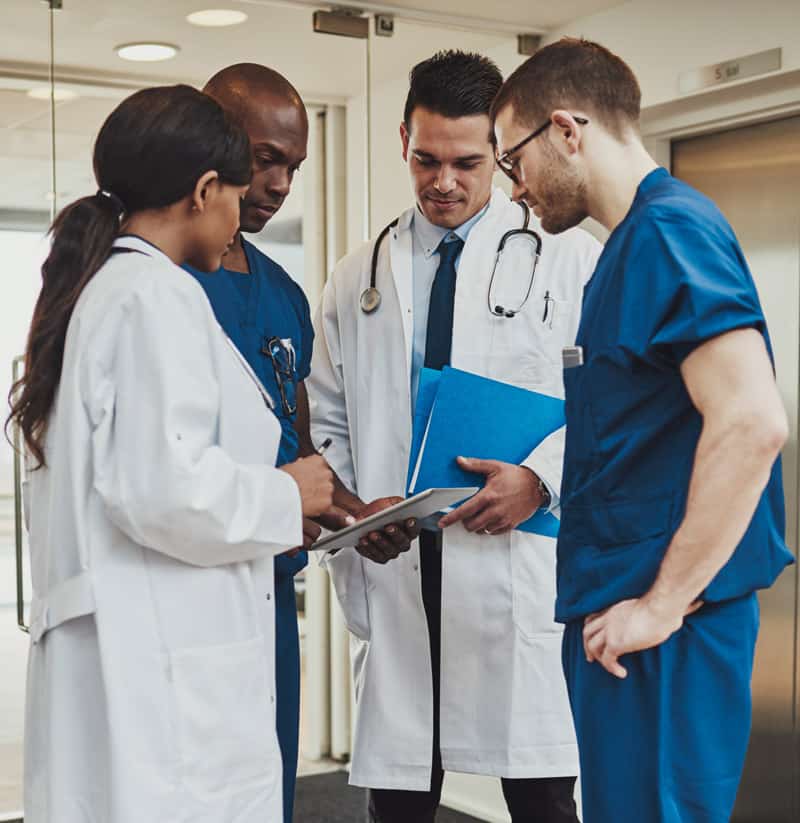 Our Services
The cornerstone of our practice is our exceptional team of fellowship trained, board-certified medical oncologists and surgical oncologists. Medical oncologists use drug-based therapies to inhibit the growth and spread of cancer, while surgical oncologists perform procedures to remove cancerous tumors and surrounding tissue. For some patients, the optimal care plan incorporates both drug therapies and surgery, as well as radiation, genetic testing and more. We bring all of the resources you need under one roof to ensure the best possible outcomes.
Our providers take the time to explain your treatment options and let you know what to expect. We believe you are the most important member of your care team, so we aim to empower you and your loved ones to understand your treatment and take control of your wellbeing.
Medical Oncology
Our world-renowned medical oncologists explore all options for effective cancer care, using one or a combination of medical therapies to address each patient's individual diagnosis.
Chemotherapy: Our team selects the optimal oral or IV chemotherapy option based on your stage and type of cancer, underlying conditions, overall health and other factors.
Targeted Therapy: When we can identify the mutation causing your cancer, targeted therapy can be used to attack the mutation while minimizing damage to healthy cells.
Immunotherapy: For cancers including lung cancer and lymphoma, immunotherapy can help a patient's own immune system identify and target cancer cells.
Molecular Testing: When indicated, your cancer specimen can undergo advanced gene testing to identify the best possible individualized therapy.
Research: Our clinical trial system can give patients access to the newest, most promising treatment options being studied in a research setting.
Continue scrolling or click to view our medical oncology team.
Surgical Oncology
Our surgical oncologists are leaders in performing advanced procedures that not only address a patient's cancer diagnosis but protect and enhance their quality of life.
Robotic Surgery
Robotic-assisted surgery with our state-of-the-art Da Vinci XI system is a minimally invasive approach that gives physicians enhanced operating capabilities including three-dimensional views, exceptional instrument control, and expanded range of motion. This allows our surgeons to perform extremely precise, targeted procedures that offer optimal clinical outcomes.
Robotic-assisted surgery also helps us protect our patients' quality of life as they undergo their cancer treatment. Because procedures performed using the Da Vinci XI system require just a few small incisions, they carry less risk of infection and blood loss, significantly less pain, quicker discharge, less scarring and a shorter and smoother recovery.
Our skilled surgeons can perform robotic procedures for a variety of cancer diagnoses, including colorectal, liver, stomach, gynecological, head and neck, thoracic and urologic cancers.
Minimally Invasive Surgery
Minimally invasive surgery uses ports placed through small incisions to perform precise, targeted surgery for a number of procedures to offer optimal clinical outcomes. Many patients who undergo minimally invasive surgery benefit from shorter hospital stays, less pain, quicker recovery and smaller incisions. We use different tools, cameras and ports to personalize each surgery for each patient based on their specific needs.
Traditional Surgery
Sometimes, patients benefit from traditional surgical approaches to address their cancer. As a member of the National Comprehensive Cancer Network, we are among the most highly-selected institutions worldwide in establishing the standard of care for cancer patients. It is our privilege to care for you and your family with the most advanced resources available.
Continue scrolling or click to view our surgical oncology team.
Our Specialties
Our medical, surgical and radiation oncologists work together closely to provide cohesive care for a wide range of cancer diagnoses:
Bone Marrow Failure
We are home to the Mid-South's only specialized clinic for adults with aplastic anemia, PNH, and related conditions that lead to an increased risk of leukemias. By providing excellence in nursing care, comprehensive testing services and a team of specialists in one location, we help patients access the close monitoring they need to protect their health throughout their adult lives.
Brain Tumors
Our nationally renowned Brain Tumor Group partners with the National Cancer Institute's Brain Tumor Study Group to advance quality care for central nervous system malignancies. Patients have access to leading neurosurgeons, medical and radiation oncologists, neuroradiologists, neuropsychologists and neuropathologists as well as the latest surgical and radiation technology, advanced molecular testing, and standard and innovative therapies.
Breast Cancer
Our Breast Cancer Group provides world-class expertise and unmatched compassion. A team of fellowship-trained surgeons, medical oncologists, radiation oncologists and plastic reconstructive surgeons are at a patient's side for their entire journey from diagnosis to survivorship, providing personalized, patient-focused care geared toward optimal outcomes and quality of life.
Endocrine Cancer
The Endocrine Neoplasia Group oversees the multidisciplinary management of benign and malignant endocrine tumors, including neoplasms of the thyroid, parathyroid, and adrenal glands and gastrointestinal neuroendocrine tumors. We also offer coordination of care and surveillance for patients and families with hereditary neuroendocrine syndromes. Our specialists include leading surgeons, endocrinologists, medical oncologists, radiologists and radiation oncologists.
Gastrointestinal Cancer
Gastrointestinal cancers include malignancies of the esophagus, stomach, small intestine, colon, rectum, anus, pancreas and liver. Our team includes nationally renowned experts in surgical oncology, gastrointestinal surgery, medical oncology, radiation oncology, gastroenterology and pathology who take a team approach to providing optimal care. We have the most advanced resources, including robotic surgery, liver-directed therapy, and state-of-the-art tools to customize your treatment in a multidisciplinary setting. Our experts are nationally recognized in the treatment of pancreatic, liver and colorectal cancer.
Genitourinary Cancer
Our multidisciplinary Urologic Oncology Program provides diagnosis and treatment of prostate, kidney, bladder, testicular and other genitourinary cancers. Urologists, medical and radiation oncologists, radiologists and pathologists with specific expertise in treating these cancers work hand-in-hand to deliver customized treatment plans and offer decision-making tools to help patients choose the therapy that's right for them.
Head and Neck Cancer
Personalized care and rehabilitation are key to helping head and neck cancer patients achieve the best outcomes and quality of life. We offer a full range of the latest treatments, including complex and minimally invasive surgery, advanced reconstruction techniques such as free tissue flaps, radiation therapy, and drug therapy options including chemotherapy and immunotherapy.
Leukemia and Myeloid Malignancies
Our blood cancer specialists are the Mid-South's leaders in treating acute and chronic leukemias. By working closely with our bone marrow transplantation program, we can provide targeted, effective care for acute leukemias and advanced therapies for myelodysplastic syndromes, myeloproliferative syndromes and chronic leukemias. As a research center, we actively support the search for better therapies through clinical trials and scientific efforts with tissue banking.
Lung and Thoracic Cancer
Our multidisciplinary program provides individualized care for lung cancer, mesothelioma and thoracic malignancies. These conditions can require a combination of treatments, so we incorporate specialists from pulmonology, surgery, medical and radiation oncology, thoracic radiology, pathology and nursing into a cohesive team. Our goal is to deliver state-of-the-art treatment plans in a caring, coordinated manner to provide the best cancer outcomes and quality of life.
Lymphomas
Most aggressive lymphomas are curable with proper treatment. Our dedicated hematology team provides a timely diagnosis and appropriate treatment that improves outcomes and reduces early complications. Our clinical care team is the region's recognized leader in treating chronic lymphomas such as cutaneous T-cell lymphomas, and we actively support clinical research and tissue banking to understand the diversity of lymphoma biology in Memphis population.
Melanoma and Skin Cancer
We offer the latest interventions, including sentinel lymph node mapping, biopsy, isolated limb infusion, intralesional therapies, immunotherapy, systemic treatment and radiation. Patients also have access to top plastic and reconstructive surgeons and the University of Tennessee Health Science Center Department of Ophthalmology, a national center for ocular melanoma treatment.
Myeloma and Plasma Cell Disorders
Management of myeloma requires an expert team that can treat the intricacies of this complex condition, which is more prevalent in the African American community. Our clinic is dedicated to managing myeloma through the adaptation of novel therapies including immunotherapy and biological therapies. We also provide community education and opportunities for our patients to participate in potentially lifesaving clinical trials.
Sarcoma
Our Sarcoma Group is made up of experts in soft tissue malignancies, a rare type of cancer that requires focused attention and collaboration by highly specialized surgical, orthopedic, medical and radiation oncologists. In addition to standard treatments, we offer specialized treatments including neoadjuvant radiation and chemotherapy, limb salvage surgery, and brachytherapy.
As part of a major academic research institution and full-service health system, Regional One Health with UTHSC Oncology offers seamless access to a full range of cancer care services, advanced therapies and next-level clinical trials and treatments.

The mission of University of Tennessee Health Science Center's Center for Cancer Research is to improve the health and wellbeing of our patients and the global community by fostering integrated, collaborative and inclusive education, research, scientific discovery, clinical care and public service in the area of cancer. For patients, this means new hope for healing through innovative clinical trials and the newest treatments.
Advanced Therapies
We offer comprehensive treatment for liver tumors which include resection, chemotherapy, radiation therapy (both X-rays and particles), liver ablation and embolization. We have nationally-recognized expertise in robotic surgery and liver ablation combining multiple types of minimally invasive treatments.
Meet Our Team
Medical and surgical oncologists, cancer specialist nurses and other patient care professionals work hand-in-hand throughout your journey to determine the best course for treating your cancer. Learn more about our physicians and their expertise in cancer care.
Our team specializes in helping patients navigate and access the medical care they need. If you have been diagnosed with cancer, contact us to learn how Regional One Health with UTHSC Oncology can help you.
Please have the following information available when you call so we can help you promptly:
Your diagnosis
The name, address and phone number of your primary care provider or referring provider
Insurance information
Are you a referring provider?
When you have a patient dealing with a cancer diagnosis, Regional One Health with UTHSC Oncology can collaborate with you to provide lifesaving care. We build clear, open lines of communication so we can treat the cancer diagnosis while being mindful of the patient's overall health, preexisting conditions and other considerations. We offer convenient access and quick turnaround on lab work, imaging, pharmacy services and specialist care, and our providers are committed to a holistic, integrated approach to overall patient wellness.
Medical Oncology:
Phone: 901-545-6262
Surgical Oncology:
Phone: 901-515-9595
Fax: 901-515-9878
Location Information
At Regional One Health with UTHSC Oncology, patients receive inpatient and outpatient care in a comfortable, family friendly environment. Our state-of-the-art infusion center and surgical suites blend the latest technology with features designed to make patients feel at home. Our facilities are designed based on the unique needs of cancer patients, giving our medical and surgical oncologists and specialized nursing team all the resources they need to deliver world-class care.
Our outpatient offices are open from 8 a.m.-4:30 p.m. Monday-Friday, and inpatient care is provided 24 hours a day, seven days a week by a dedicated team of cancer specialists. Free valet parking is available for patients and families, and the Regional One Health campus offers a full-service cafeteria, Starbucks coffee kiosk, chapel and chaplain services, a gift shop and more.
Medical Oncology
890 Madison Avenue
Suite 180
Memphis, TN 38103
Surgical Oncology
880 Madison Avenue
4th floor
Memphis, TN 38103
| | |
| --- | --- |
| Phone | 901-515-9595 |
| Fax | 901-515-9878 |